Woodpecker WP5 Wood Burning / Multi-Fuel Stove
Original price
£1,099.00
-
Original price
£1,099.00
✅ Free Shipping To MainLand UK
✅ Same-Day Order Processing
✅ Full Manufacture Warranty
✅ VAT already included in The Price
Woodpecker WP5 Wood Burning / Multi-Fuel Stove
Crafted using the optimum combination of steel and cast iron, the Woodpecker WP5 is a highly advanced, EcoDesign ready stove boasting multi-fuel capability and supplied as standard with a 5 year warranty. Offered at a price point that will appeal to everyone, these exciting new stoves have been designed using ACR's extensive experience within the wood burning stove industry and offer excellent value without compromising on quality.
The Woodpecker stove range has been developed with the British home in mind. Having already passed the stringent EcoDesign emission tests set to come in force in 2022, the Woodpecker WP5 is an extremely clean burning appliance which is also DEFRA exempt allowing you to burn either wood or smokeless fuels in all parts of the UK including smokeless zones.
The Woodpecker WP5 is a versatile stove supplied with an interchangeable top or rear 125mm (5") diameter flue outlet and has an external air connections for today's regulations. With a nominal heat output rating of 5kW, the WP5 does not normally require an air vent in the room yet it is capable of providing up to 7kW when running at maximum so you can be guaranteed a lovely, cosy room on even the coldest of winters evenings.
As  you would expect from a stove that has passed the upcoming EcoDesign requirements, the Woodpecker WP5 boasts incredible high efficiency of 82.5%. Easy to control to your ideal burn rate as shown in the product video, the WP5 provides a wonderful flame view through its large glass viewing window with Air Wash feature to keep the glass clean. Capable of burning logs up to 400mm (15¾") in length or approved solid fuels.
A stylish stove offered at an excellent price that will enhance any modern interior. The Woodpecker WP5 is ideal for both first time stove owners and seasoned experts and has the reassurance of being designed by company with extensive knowledge in the UK stove industry.
From an exciting new range of stoves brought to you from renown brand ACR, the Woodpecker WP5 is a superb multi-fuel stove packed with the very latest features normally only associated with higher priced models. EcoDesign compliant boasting an extremely clean and controllable burn.
| | |
| --- | --- |
| Fuel | Wood & Solid Fuel |
| Nominal Heat Output | 5.0kW |
| Total Output Range | 2.5kW to 7.0kW |
| Efficiency | 82.5% |
| Max Hearth Temp | Less than 100°C |
| Weight | 70kg |
| Max Log Size | 40cm |
| Flue Diameter | 125mm (inside diameter) |
| Flue Location | Top or Rear |
| Clearance to combustibles at rear | 250mm |
| Construction | Cast Iron & Steel |
| Warranty | 5 Years on casting |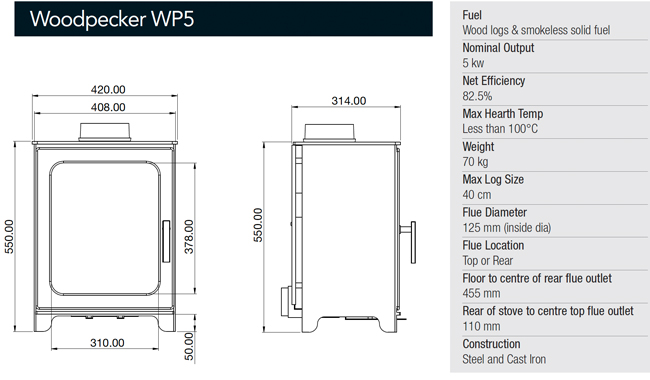 Download Instructions
(Manufacturers instructions are offered as a guide only and may not always be the latest version)
Due to the size and weight of wood burning stoves, all Woodpecker Stoves will be delivered to you on a palletised delivery service. All pallet deliveries are kerbside/front door delivery only, so please arrange adequate means to take your order into your home. Under normal circumstances this may take 2 people.
Current delivery times for the Woodpecker WP5 Plus is approximately 7-10 days however, this is dependant on stock levels at time of placing an order. Once an order is placed, we will contact you to advise if there is likely to be any delays on the estimated delivery time.

All orders qualify for free curbside shipping to United Kingdom
We ship smaller items via USPS, UPS, or FedEx. Larger and heavier items are shipped via LTL freight.

Order Processing:
After your order is placed, you will receive an email confirmation from us. As soon as your order is placed, we begin processing the order and arranging shipping. In-stock orders typically ship within 3-15 business days after your order is placed. We do not guarantee shipping transit times.
Shipping Transit Times:
Most items take 3-15 business days to deliver after they have left the warehouse. Shipping transit times are not guaranteed - they are estimates based on our experience. Please note that Some items may be on a pre order status if thats is the case we will contact you.
We strongly advise you not to schedule contractors until your order is fully delivered and all items inspected.

Freight Shipping:
If your item is too big and/or too heavy to fight in a normal postal carrier vehicle, your product will be shipped via a freight carrier. We reserve the right to choose which freight carrier delivers your shipment.

Freight shipping is more complicated than a regular postal carrier delivery. Here are some important things to know about freight shipping:

You must be physically present to accept delivery. The freight carrier will either call to schedule a delivery appointment or notify you before delivery. Freight shipments are dropped off at your curb.The driver is NOT expected to deliver your items to your front door, garage, back yard, etc. It's a good idea to have other people there to help you move the shipment.
Extra charges may apply if redelivery needs to be arranged because nobody was at the delivery location. You must sign for the shipment upon acceptance.
Primecookout wants to ensure a fair shopping experience for all of our customers - please review our store policies carefully. By purchasing from us you argree to the terms set forth in our store policies.
If you are not satisfied with your purchase, your product might be eligible for a return.
Please note that some items may have restocking fees please read the description of the item of the prior to placing an order , And it is your responsibility for shipping costs. This includes the shipping costs incurred by Primecookout to ship the items to you and the return shipping costs. Additionally, you are responsible for the credit card processing fees associated with the transaction.
Please note we can ONLY process returns for unused, unopened products that are still in the original manufacturer packaging with all manuals, accessories, packing slips, and packing materials.  Items must be unused, unassembled, and must be returned in the original packaging within 30 days of delivery. There are absolutely no exceptions.
Items that are NOT eligible for returns include the following:
- Used items, opened items, or items that have been removed from original packaging.
- Items that have been assembled or installed.
- Clearance, custom made, or made-to-order products.
- Items that are not returned within 30 days of receipt of delivery.
- Items that are noted "not returnable" in the item description.
- Items that you ship to us without receiving an a Return Approval.
If your item(s) are unused, unassembled, and still in original packaging and are not otherwise ineligible for a return, you can request a return by sending an email to info@Primecookout.com.
You will receive a return email from us either approving the return or requesting more information.  Please note the following terms and procedure for approved returns:
You are responsible for shipping costs associated with the return.  Original shipping charges paid by you are also ineligible for a refund.
Once your return is approved, we will send Return Approval with shipping labels and instructions on how to ship your return. After your return is received and inspected, we will issue your refund, less shipping costs and charges associated with the return. After inspection, we will issue a refund.
Inspecting Your Delivery/Damaged Items

Damage and Defects:

It is your responsibility to inspect products that are delivered to you to determine if your items have any damage or defects.

You MUST notify us via email of damage or defects within 5 business days of accepting delivery.  There are NO EXCEPTIONS.

If you notify us of damage or defects within 5 business days of delivery:

Email us at info@Primecookout.com to report the damage.  If you call us we will ask for you to send an email for documentation purposes.
We will offer free replacement parts, a discount to keep the item as is, or allow a refund/replacement.  We are an online only dealer and are unable to perform or coordinate repairs for damaged items.
Your items cannot be used in any way to be eligible for replacement parts, a discount, or a refund/full replacement.
If you choose to keep the item for a discount or to accept replacement parts, you have 3 business days to accept or reject the offer.  You still cannot use your items during this time.
Keep packaging, box, and items in case the item needs to be inspected by the freight carrier.

If you don't notify us of damage via email within 5 business days:

We will not offer any refunds, free replacement parts, discounts, or exchanges under any circumstances.  After 5 business days, we are outside of our time window to file claims with the freight carrier or manufacturer.
We can sell you replacement parts for repair.

Please note, some of our products may arrive with residue on them, which is a byproduct of the manufacturing process.  Primecookout is not responsible for the costs associated with cleaning or removing manufacturing residue from delivered products.
New Grill Owner Unboxing Agreement

Good Morning/Afternoon,

Dear Sir/Madam,

Thanks for purchasing a new grill from PrimeCookout. We appreciate your business and look forward to doing business with you in the future.

Here are a few tips for unboxing your new grill:

1.  Please visually scan your Grill prior to it being unloaded from the delivery Van. If you see any damage don't accept it.

2.  This is a curb-side delivery only. It is like this to avoid damaging your property/belongings.

3.  If you are not able to scan the grill on the delivery truck (you're not home, someone received it or you) Dont worry, you or someone you trust are at the stage of unboxing your grill. 

4. PLEASE PAY ATTENTION TO THESE NEXT STEP     

A. Cut the white/black strap     

B. Remove the cardboard lid     

C. Remove the cardboard box that goes around the Grill, AVOID KNIVES     

D. Now you can see your Grill on the pallet all around. Now you need to inspect  for any damages before you remove it from the pallet.     

E: If you see any bent or dented damages to your grill it is not your fault, Please take a  photo and send it to us right away to info@primecookout.com along with your Name and order  Number we will reply to you right away and start working on your case     

F. If there is any damage to your Grill we will works very fast solving issues 

5. Now number 4 was followed and your New Grill looks great. You are ready to remove from the pallet you will need two people to do this next step.      

 A. You and the other person will need to lift the grill clearly from the pallet avoiding the skirting of the grill to make contact with the wood pallet.

We have also attached a video of how to unboxing the Whistler Grill.

Watch the video here >https://youtu.be/b2u98YiYXTg-
How to season a gas grill for the first time

WHAT DOES IT MEAN TO SEASON A GRILL? 

Before we dive into the nitty gritty, what does it actually mean to season a grill? And before you ask, no, it doesn't mean sprinkling your favorite herbs and spices onto the grates. 

'Seasoning, also known as 'curing', is usually done by heating the metal grates, adding oil, then allowing it to cool and absorb, 'Doing so will protect your grill from rust and extend its life.'

The process of heating and oiling the grates will keep your barbecue operating at its best while also making it easier to clean your grill after cooking. It's recommended that you find time to do this after every use but, just as you'd season a brand-new frying pan before cooking, it's especially important to season a gas grill the first time you use it. 

WHY DO YOU NEED TO SEASON A GRILL BEFORE YOU USE IT FOR THE FIRST TIME? 

If you haven't used your brand new grill before, neither has anyone else. This means the grates won't have been oiled, heated, or have cooked any food until now. Seasoning a grillfor the first time, therefore, is a bit like training it in preparation for its first meal. 

'In some cases, cast iron and carbon steel cooking grates will be very vulnerable to rust if heated and cooled down multiple times,' explains Dan. 'Seasoning an uncoated cooking grate will lock in protective oils that will help extend the cooking grates life and help it to work better.'

Besides making your grates last longer, seasoning is also essential for that smoky outdoor barbecue flavor we all crave. 'It's important to season a grill before using it for the first time not only because it helps protect the grill grates from rust, but it also improves the flavor of the food, Seasoned grates will also help you achieve those perfect grill marks, too. 

HOW TO SEASON A GRILL FOR THE FIRST TIME

1. PLACE YOUR CLEAN GRATE ON THE BARBECUE OVER A MEDIUM HEAT

Even if they're brand-new, it's always a good idea to give your grates a quick clean in the kitchen to remove any dust or debris that's collected from being sat in storage. If you're seasoning a grill you've used before, you'll need to clean the grates with a wire brush. Once clean, place your grates on the grill and turn it up to a medium heat. 

2. WHEN HOT, APPLY A SMALL AMOUNT OF OIL

After ten minutes (or once the grill is sufficiently hot) apply a small amount of oil - just enough to cover the entire surface. 'Use your brush to spread the oil over the grates, making sure you apply a thin, even layer,' says Dan. High-smoke point oils such as canola and peanut oil work best, but coconut oil or standard vegetable oil will work just as well. Turn the grill to high heat for around 15 minutes to allow the oil to cure. Make sure you wear protective gloves for this step. 

3. LET THE GRATES COOL

When the oil reaches its smoking point (around 15 minutes) turn off the barbecue and let the cooking grates cool. You might want to repeat the oiling process again for a brand-new grill.

4. WIPE AWAY EXCESS OIL

Finally, once your grates are cool, wipe away any excess oil from the surface using a cloth or rag. You are now ready to start grilling.

Now you've seasoned your gas grill for the first time, the alfresco dining can officially commence. Those long evenings cooking feasts for friends in your outdoor kitchen are just around the corner... At last!